---
BEST STAY IN THE HEARTH OF SIENA
This accommodation facility is ideal for those who want to experience the historic center of Siena and the life of "contrade", visit the city and be near to University, Chigiana Musical Academy, the main monuments of the city as Piazza del Campo, Piazza del Duomo, S. Maria della Scala and Opera del Duomo Museums, Pinacoteca, Rozzi and Rinnovati theaters, and all the main churches.
Our guest house is located only 10 meters from Piazza del Campo and 15 from Piazza del Duomo, among the main palaces of the historic center of Siena, and guests have a wide choice of restaurants, bars, supermarkets and grocery stores, various shops for shopping and convenient bus stops.
---
Stay in the heart of Siena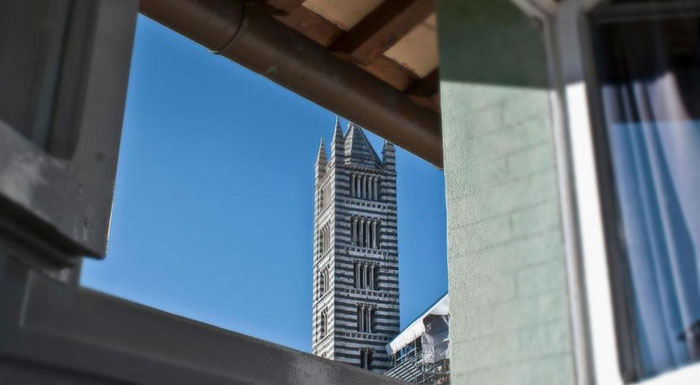 The accommodation facility is special for the location between Piazza del Campo and Piazza del Duomo and in front of Palazzo Chigi, in the hearth of historic center of Siena and has an amazing 360 degree view from the penthouse all over the city of Siena and the surrounding country.

Simonetta is a doctor and this is the house where she grew up and lived and now she rents out some of the rooms of this apartment ideal for tourists who want to visit the historical center , monuments, museums, watch Palio or attend University courses, or listen to concerts or attend courses of prestigious Chigiana music Academy or of Jazz University of Siena.

The guest house offers the following typs of accommodation: single room, double room, triple room, quadruple room in Penthouse, apartment.
---
Some customer reviews
« In the historic center with a spectacular view over the rooftops of Siena. Very bright independent room, breakfast at the nearby bar. »
« Fantastic location in Siena, a stone's throw from the Duomo with exceptional views of both the Duomo and the Piazza del Campo. Excellent breakfast. »
« Apartment in the center, with a beautiful panoramic view from the balcony over the roofs of the city. Comfortable facility, friendly and helpful staff. »
« Excellent location. Excellent panorama. Spacious. 2 minutes from both the Duomo and Piazza del Campo !! »
« Very central location, breathtaking 360 degree view. »
« The attic overlooks the roofs of the city. The location is very central. Excellent cleaning service. »
« Perfect structure, very central, very friendly and helpful staff. »
« More central location is difficult to imagine, historic building a few tens of meters from both the cathedral and Piazza del Campo, obsessive cleanliness, every accessory in the bathroom in its place. »
« We spent one night in this wonderful place. There were 4 of us and we rented the attic: fabulous, a wonderful view. The whole house is very clean and tidy. The independent use of the kitchen is also excellent. »